Condensed Matter Physics, 2008, № 4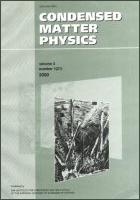 ЗМІСТ
Dubrovskii I.M.
The role of angular momentum conservation law in statistical mechanics

Alekseechkin N.V.
On the kinetics of phase transformation of small particles in Kolmogorov's model

Khomenko A.V., Prodanov N.V.
Molecular dynamics simulations of ultrathin water film confined between flat diamond plates

Antonov V.N., Kukusta D.A., Shpak A.P., Yaresko A.N.
Electronic structure and x-ray magnetic circular dichroism in the Heusler alloy Co2FeSi

Kostrobij P.P., Markovych B.M.
Semi-infinite metal: perturbative treatment based on semi-infinite jellium

Boichuk V.I., Bilynskyi I.V., Leshko R.Ya.
The effect of polarization charges on energy of univalent and bivalent donors in a spherical quantum dot

Mysakovych T.S., Krasnov V.O., Stasyuk I.V.
Phase transitions in the lattice model of intercalation

Portnyagin D.
Modelling of cycling of lithium battery with microporous carbon electrode

Shanker J., Singh B.P., Jitendra K.
Analysis of thermal expansivity of solids at extreme compression

Yoshida K., Arimitsu T.
Annihilation operators associated with unstable vacua in non-equilibrium thermo-field dynamics

Kondratiev Y., Lytvynov E., Röckner M.
Non-equilibrium stochastic dynamics in continuum: The free case

Bier T.
On matrices associated to prime factorization of odd integers

Matuła P., Stępień I.
On the application of strong approximation to weak convergence of products of sums for dependent random variables

Pikuta P.
Local solutions to Darboux problem with a discontinuous right-hand side

Khmelevsky Y.
Information and data protection within a RDBMS

Author index of volume 11 (2008)

IX Workshop and Competition for young scientists in the field of statistical physics and condensed matter theory

3-rd Conference "Statistical Physics: Modern Trends and Applications"
Всі права застережено. У разі використання статей з цієї колекції посилання на журнал обов'язкове.
Пошук
Перегляд
Мій обліковий запис
RSS Feeds