Физика низких температур, 2001, № 04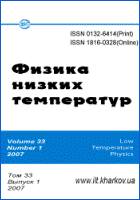 СПЕЦИАЛЬНЫЙ ВЫПУСК
НИЗКОТЕМПЕРАТУРНАЯ МАГНИТОСТРИКЦИЯ МАГНЕТИКОВ И СВЕРХПРОВОДНИКОВ
ЗМІСТ
Еременко В.В., Сиренко В.А.
Низкотемпеpатуpная магнитостpикция магнетиков и свеpхпpоводников

Arnaudas J.I., Ciria M., de la Fuente C., Benito L., del Moral A., Ward R.C.C., Wells M.R., Dufour C., Dumesnil K., Mougin A.
Magnetoelastic stresses in rare-earth thin films and superlattices

McCallum R.W., Dennis K.W., Jiles D.C., Snyder J.E., Chen Y.H.
Composite magnetostrictive materials for advanced automotive magnetomechanical sensors

Prokhnenko O., Arnold Z., Kamarad J., Medvedeva I., Kuchin A.
Magnetovolume anomalies in Ce2Fe17-xMnx

Abramovich A.I., Michurin A.V.
Giant volume magnetostriction in CMR manganites R1-xSrxMnO3 (R = Sm, Nd)

Trukhanov S.V., Troyanchuk I.O., Korshunov F.P., Sirenko V.A., Szymczak H., Baerner, K.
Effect of oxygen content on magnetization and magnetoresistance properties of CMR manganites

Barilo S.N., Bychkov G.L., Gatalskaya V.I., Kurochkin L.A., Sokol V.P., Szymczak H., Szymczak R., Baran M.
Magnetic properties lithium-doped manganite single crystals

Koroleva L.I., Abramovich A.I., Demin R.V., Michurin A.V.
Peculiarities of the volume magnetostriction in La1-xSrxMnO3 in the Curie point region

Nikitin S.A., Tereshina I.S., Touliakov A.P., Tereshina E.A., Verbetsky V.N., Salamova A.A.
The effect of hydrogen on the magnetostriction of rare-earth compounds TbxDy1-xFe2

Zvyagin A.A., Zvyagina G.A.
Magnetoelastic effects in low-dimensional magnetic systems

Eremenko V.V., Sirenko V.A., Schleser R., Gammel P.L.
Magnetostriction in the mixed state of superconducting 2H-NbSe2 single crystals

Bruk V.V., Eremenko V.V., Makedonskaya N.I., Shabakayeva Yu.A., Sirenko V.A.
Investigation of magnetic flux gradients in hard superconductors

Beznosov A.B., Fertman E.L., Eremenko V.V., Desnenko V.A.
Electronic structure and magnetostrictive sensitivity of Fe-B metallic glasses

Beznosov A.B., Fertman E.L., Eremenko V.V., Pal-Val P.P., Popov V.P., Chebotayev N.N.
Spontaneous magnetostriction in the Gd-Y system: analysis of phase transformations

Гомонай Е.В., Локтев В.М.
Магнитострикция и магнитоупругий механизм обратимого поведения магнитосопротивления в слоистых антиферромагнетиках

Gansu Tianxing Rare-Earth Functional Materials Co., Ltd.
Всі права застережено. У разі використання статей з цієї колекції посилання на журнал обов'язкове.
Пошук
Перегляд
Мій обліковий запис
RSS Feeds